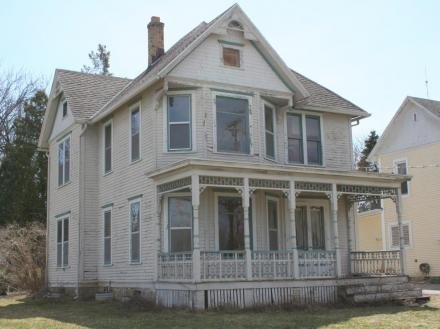 21 Oct

Bowling for the Larson House

A "Bowling for the Larson House" fund raiser will be held on Saturday, October 23rd from noon to midnight at the Spartan Bowl in McFarland.  General manager Brock Roder explained that Spartan Bowl is used for many civic fund-raisers but this one is different in that Brock is organizing it himself.

Brock noticed the large "thermometer" sign in front of the Larson House and later attended a Chamber of Commerce meeting where McFarland Historical Society president Dale Marsden was introduced.  After the meeting, he approached Dale and proposed his idea for a bowling fund raiser.  Dale ran it by the board of directors and everyone thought the idea sounded great.

The event schedule calls for open bowling from noon to 4 PM where a portion of all proceeds goes to the McFarland Historical Society for the purchase of the Larson House.  From 5 to 8 PM there will be raffles for donated items from area McFarland businesses.  At 8 PM is DJ Entertainment sponsored by the McFarland State Bank.  From 9 PM to midnight is Glow in the Dark Jack Pot Bowling Sponsored by the Thistle newspaper.  A portion of bowling proceeds will again be donated for the Larson House.

Brock Roder is a lifetime resident of McFarland, graduating from McFarland High School in 1999.  He received a degree in physical education from the UW-Whitewater and began substitute teaching.  Six months later, he was offered the bar manager position at Spartan Bowl.  A steady pay-check was mighty appealing since he and wife Krista (Cheramy) were expecting their first child.  Brock immediately noticed the laid back atmosphere so different from teaching where detail and structure are paramount.  Brock's teaching background and work ethic soon landed him the general manager position at Spartan Bowl.
"Our pace depends on the customers.  After high school sporting events, it's very busy.  Now with the bowling league season and football season, business will pick up because we are also a full sports bar with a restaurant menu," he explained.
When asked why he was motivated to do a fund raiser for the Larson House, Brock said, "The Firemen have done a bowling fund raiser here for years.  We actually look for good causes.  I saw the big sign at the Larson House and thought it would be good to have a day of bowling where a big portion of the proceeds goes to the purchase of that historic home."
"It's a good fund raiser because it is fun and can attract lots of people.  Bowling is for people of all ages and abilities.  My three-year old can play with bumpers (gutter guards) as can other children or even adults who are new to the sport.  They nearly always get pins this way and it keeps enjoyment in their game.  We can raise and lower the bumpers for every request."
Brock said that donations for the Larson House Raffle will be gratefully accepted by him (bus. 838-8014 or cell 219-9439) or Ken Brost at 838-7142 , or by any other member of the McFarland Historical Society Board of Directors.